DESIGN & TECHNOLOGY DEPARTMENT SUCCESSES 2016
The Heathland School Design and Technology Department has continued to offer pupils a wide variety of opportunities. In particular running a range of clubs and STEM related activities, including inviting in STEM Ambassadors and other colleagues in local schools to develop and discuss STEM related Design and Technology projects.
The Year 7 STEM club entered a national STEM competition for 11-14 year olds, run by Learning Aluminium. The challenges were set up to get the pupils to think creatively and put their developing design skills to work. The Year 7 teams were given three aluminium based challenges to choose from. Two teams decided to design a one person vehicle for the future – focusing on aluminium in transport and the third team chose to design a garden building for a creative home worker – focusing on aluminium in construction. The teams faced big competition, with over 250 entries representing 40 different schools from around the UK. Unfortunately, our designs were not selected as winners this year, but all three teams received a certificate and then started working on creating a solar paneled car for STEM Week.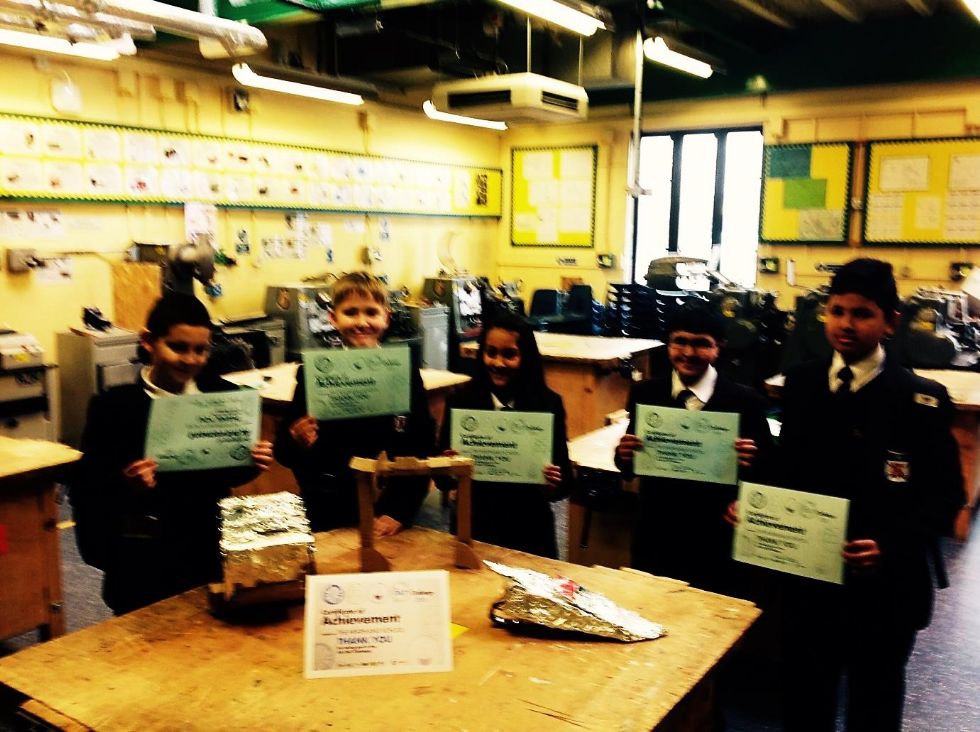 Hossam Babari, Dawid Krygier, Nadia Shah, Faeq Faisal, Nabil Rahman (Manav Aora not pictured)
Year 9 future Resistant Materials students were invited to a STEM day at Brunel University; this was a fun filled day, where the pupils took part in a range of STEM workshops. The day started with a tour around the University campus, to give the pupils an idea of what University life would be like. After the tour the workshops started, where the pupils were encouraged to be very competitive. The pupils created a bridge using chocolate welding, which was a messy activity to start the day, but the pupils thoroughly enjoyed testing the bridges to destruction. This was followed by controlling a mini robot and designing a car, the competition continued to be fierce. After a busy morning of activities the pupils were treated to a buffet lunch, before they were taken to one of the engineering labs. They got an opportunity to fly in a flight simulator and also see the TT Zero electric motorcycle, which had just returned from the TT race on the Isle of Man. The day was completed with a presentation of awards for the winning teams. The STEM workshops were engaging and competitive, and the pupils had an informative day out at Brunel University.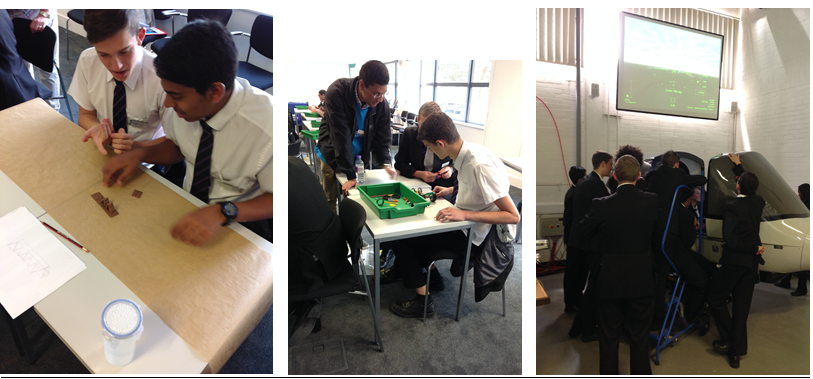 STEM week in the Technology Department continued with the theme of cars, as The Bloodhound car was onsite. In Technology the Year 7 STEM Club showed off their solar paneled cars, unfortunately we had to use artificial light as it was raining outside. Pupils were also given the opportunity to make their own Balloon powered car, which created lots of excitement as the pupils battled to win the Balloon Car Racing competition. A fun time was had by all the pupils who took part in the competition.
On the 23rd of June it was National Women in Engineering Day and the STEM team took this opportunity to encourage pupils to celebrate the day. Some pupils in Year 7 and 8 took part in some STEM activities led by Dr. Baljit Ghatora, a Senior Lecturer in Forensic and Analytical Chemistry at Kingston University. Dr Ghatora showed the pupils some real life applications of Resistant Materials, and it allowed the pupils to see the cross-curricular link of Technology and Science. To continue the celebration Year 10 and 12 were given an Engineering inspired Thought for the Day and the girls were given an opportunity to sign up to SPARXX; an organisation that aims to inspire young women to look into careers in the STEM field.

Pupils from Years 8 and 9 took part in the West London Science and Technology Challenge Day where they encountered challenges such as programming robots, using E-FIT technology and completing a vehicle task. The experience was not only entertaining but of a high educational value as the group used their own knowledge combined with informative talks to complete tasks such as guiding a LEGO robot around a tight obstacle course and using E-FIT technology to make a replica of a "criminal" whom the group saw for a few moments. Although the results were highly amusing, learning how to use E-FIT technology was a definite benefit. The vehicle challenge consisted of using pre-cut parts and adapting it in such a way which resulted in a functioning model of a car. The experience was advantageous and the group would agree that the day was having an insight into using technology and visualising how life would be being in any STEM field instead of having many lectures about the topic. A special mention must go to Hannah and Sachi who excelled in the competition and have qualified for the national round of the Science and Technology Challenge. We wish them all the best.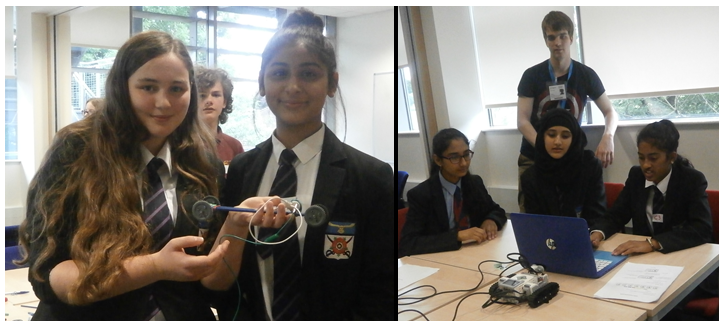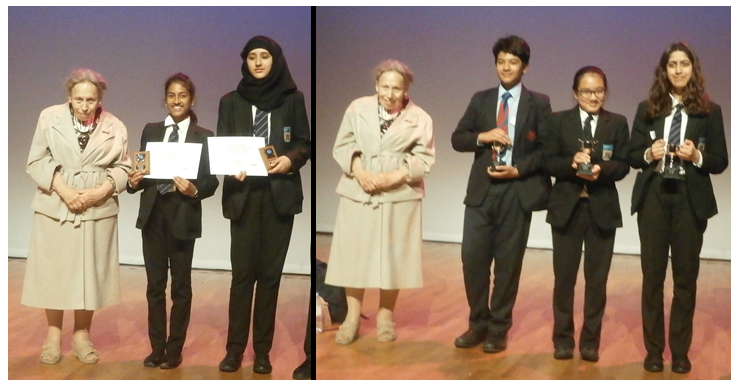 Pupils from Year 8 took part in an exciting range of Gifted and Talented Technology workshops. This great opportunity helped them learn about techniques that improved their skills in Food and Graphics Technology. Understanding how to make a Swiss roll light and airy, how to make cheese and even their very own stamp creations. They really enjoyed this as they could challenge themselves and be creative.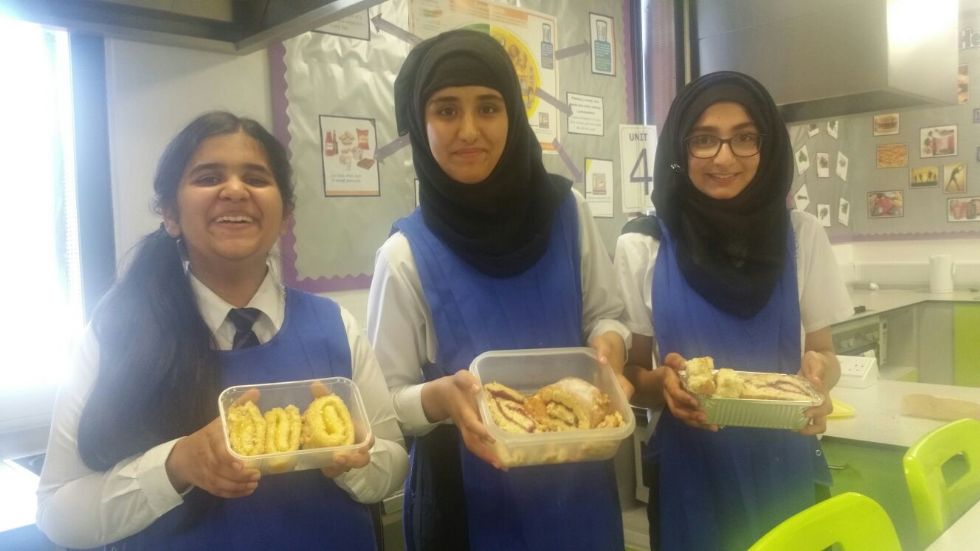 Design and Technology teachers enjoyed their role as judges of The House Bake Off. It gave many pupils an opportunity to demonstrate their talents in cooking, with the most popular cakes sporting rainbow colours, chocolate shards and varied icings and decorations. The overall winners were Year 7 - Sara Karim, Year 8 – Aisha Naba, Year 9 – Hamza Cheema, Year 10 – Madeeha Tallat, Year 12 – Jade Matthews and Staff – Miss Wynn.
The Sixth form Fashion students joined forces with French and Art A Level students for a cultural trip to Amsterdam. They visited a number of galleries and museums. All the Year 12 and Year 13 Fashion pupils completed another successful year and produced excellent displays on a range of creative topics for the Art, Design and Fashion Exhibition in June. Pupils produced a range of beautiful art work, unique textiles products and high quality sketch and technical books. Sixth formers also took the opportunity to develop their practical food skills by taking Sixth Form Cooking as part of their Wednesday afternoon entitlement.
The department continued to offer numerous extra-curricular Technology Clubs which were popular and well attended. These included informal drop-in sessions as well as official Technology Coursework clubs for Resistant Materials, Food Technology and Textiles. In addition there were ICT clubs, and practical workshop sessions. The Design and Technology technician continued to run both a First Aid Club and a KS3 workshop based club where pupils have been making bird boxes, towel rails and a whirligig. Staff also continued to commit many long evenings to ensure pupils achieved their best in their Technology project work at both GCSE and A Level.
Pupils also attended the Graphics Club in order to have the prestige associated with designing the next edition of the Pupil School Diary and the new Year 7 Heathland School Tie. The winner designing the new school tie was Ismatfatema Kadiwala.