Examination results this year have yet again been extremely positive and congratulations are in order for both our KS4 and KS5 students.
This year sees the first results of the new reformed A Levels where AS and A Level has been decoupled. There are a small number of Legacy AS subjects which were taken, these qualifications will be reformed in 2019. Standalone AS subjects were also taken by a small number of students.
The 2017 results also reflect the changes to reformed GCSE English Literature, English Language and Mathematics qualifications. These subjects are awarded in grades 9-1 whilst the remainder of GCSEs continue to be awarded with traditional A*-E grades. The way school's results are being published has also changed in light of the numerical grades and results are now given as a 'standard pass' (grade 4 and above) and a 'strong pass' (at grade 5 and above).
Despite these major changes our students have performed exceptionally well and this is reflected in our exceptional examination results.
Click here to access School performance tables on the Government website.
KS4 Exam Results 2017
| 2017 | School (%) | National |
| --- | --- | --- |
| Attainment 8 | 55.4 | 44.2 |
| Progress 8 | 0.95 | |
| 2017 | School (%) | National |
| --- | --- | --- |
| Pupils who achieved a grade 4+ 'good pass' in English and Mathematics | 81% | 59% |
| Pupils who achieved a grade 5+ 'strong pass' in English and Mathematics | 67% | 39% |
| Pupils who achieved the English Baccalaureate (EBACC) 4+ | 49% | 22% |
| Pupils who achieved the English Baccalaureate (EBACC) 5+ | 48% | 20% |
Highlights of KS4 Examinations
The Heathland School is delighted with the excellent 2017 GCSE results. Our Year 11 students achieved outstanding results yet again and we would like to congratulate them, the staff and their parents for their hard work, dedication and extensive efforts.
Examination highlights include:
13 students achieved all grades at A*/A/7/8/9
81 % of students achieved 5 A* - C grades including English and Mathematics (4+)
84% of students achieved grades 9-4 Mathematics
73% of students achieved grades 9-5 in Mathematics
90% of students achieved grades 9-4 in English Literature and Language
78% of students achieved grades 9-5 in English Literature and Language
98% of students achieved a grade A*- C in Biology/Chemistry/Physics
85% of students achieved a grade A* - C in Science
Special congratulations are awarded to the following students:
Attainment of grade 9s in both Mathematics and English
Hyatt Aljumaily
Boris Didov
Talha Raza
Simrit Sekon
Attainment of a full set of grades at A/7-A*/8/9
Bushra Ahmed
Hyatt Aljumaliy
Cameron Creaser
Yasmin Dawoodjee
Boris Didov
Sachin Doolub
Sumeet Grewal
Rohan Mangat
Sanya Puri
Talha Raza
Rea Sachdeva
Simrit Sekhon
Ishan Sharma
And a further special mention goes to Simrit Sekhon who achieved three grade 9s.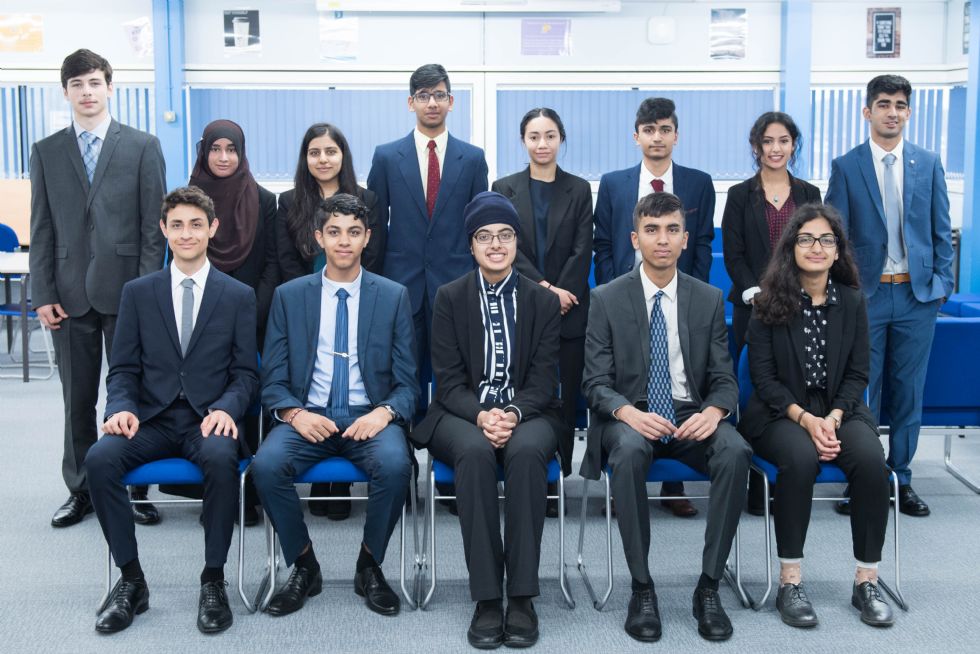 KS5 Examination Results
The performance of our Post-16 students was exceptional this year and we are proud to announce that our A*-B results have increased from last year. Many of our departments have exceeded national expectations at A* - C and the majority of measures show our results to be well above national figures.
| A-Level | School | National |
| --- | --- | --- |
| Average grade per entry | C+ | C+ |
| Average point score per entry | 32.52 | 32.1 |
| Number of students entered | 243 | |
Congratulations are extended to the following A Level students who achieved all A*and A grades:
Ahsan Ahmed
Ahmed Ali
Prasanna Bhusal
Urvashi Boolaky
Isuri DE Alwis
Jihun Dhillon
Larishma Dias
Ula El‐Tayer
Malisha Hair
Rabin Kandel
Rubika Kathirakamu
Kajal Ladva
Meenakshi Ladva
Heena Mahtey
Ayesha Mir
Amar Pankhania
Courtney Perkins
Maheen Rai
Anjana Ratnayake
Zainab Riaz
Hasni Rupasinghe
Reem Salman
Jasdeep Seira
Kamran Sharma
Jamie Sim
Aleksandra Szram
Haazim Tungekar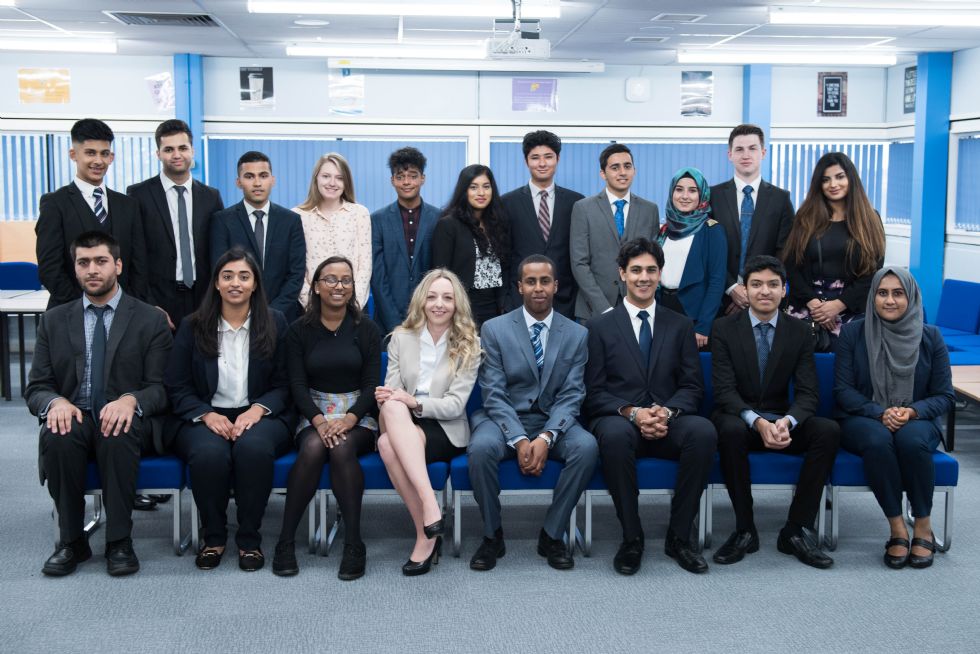 Progress in English and Maths
For students who joined Year 12 with a grade lower than C in GCSE English and Maths, the progress score were:
| | School | National |
| --- | --- | --- |
| English | 0.84 | 0.02 |
| Maths | 0.19 | 0.0 |
Retention
186 out of 261 students from year 11 stayed on for sixth form.
220 out 248 progressed from year 12 to 13.
Student Destinations
We are extremely proud of all the students who have continued their educational journeys and have successfully secured places at prestigious universities.
It is a great pleasure to announce that 90% of all Sixth Form applicants have secured places at Higher Education Institutions. The figure of students moving on to Higher Education has increased by 5% from last year.
We are very pleased to congratulate 25% of our students (over 200) who have successfully gained places at Russell Group Universities, this is six more students that last year. A further well done goes to 46% of our Sixth Formers who will be studying at outstanding institutions with global reputations; this figure has increased from last year and is an outstanding achievement for our students.
A small number of students (8%) have chosen to move directly into the workplace or apprenticeship schemes whilst others have opted for internships.