We are extremely pleased with our 2018 examination results and congratulations are in order for both our KS4 and KS5 students.
This year is the second year of reformed GCSEs and the awarding of grades 9 -1. In light of the numerical grades the way the School's results are being published has also changed and results are now given as a 'standard pass' (grade 4 and above) and a 'strong pass' (at grade 5 and above).
Despite the implementation of the new grading system our students have performed remarkably well and this is reflected in our exceptional examination results.
Our KS5 results have been our best ever and our students have performed phenomenally in this year's examinations.
Link to government site: https://www.compare-school-performance.service.gov.uk/school/102539/the-heathland-school
KS4 Examination Results
| 2018 | School (%) | National |
| --- | --- | --- |
| Attainment 8 | 55.16 | 44.3 |
| Progress 8 | 0.82 | 0.0 |
| EBACC Average Point Score | 5.14 | 3.83 |
| 2018 | School (%) | National |
| --- | --- | --- |
| Pupils who achieved a grade 4+ 'good pass' in English and Mathematics | 80% | - |
| Pupils who achieved a grade 5+ 'strong pass' in English and Mathematics | 61% | 39% |
| Pupils who achieved the English Baccalaureate (EBACC) 4+ | 57% | - |
| Pupils who achieved the English Baccalaureate (EBACC) 5+ | 42% | - |
*national data not yet available
Highlights of KS4 examination students
Yet again, we have seen a fantastic set of GCSE examination results. We would like to congratulate our students, their parents, and our committed staff for all of their dedication, hard work and relentless effort.
Examination highlights include:
86.4% of students achieved grades 9-4 Mathematics
69.8% of students achieved grades 9-5 in Mathematics
81.2% of students achieved grades 9-4 in English Language
60.9% of students achieved grades 9-5 in English Language
91.2% of students achieved a grade 9-5 in all three Biology, Chemistry and Physics
Special congratulations are awarded to the following students: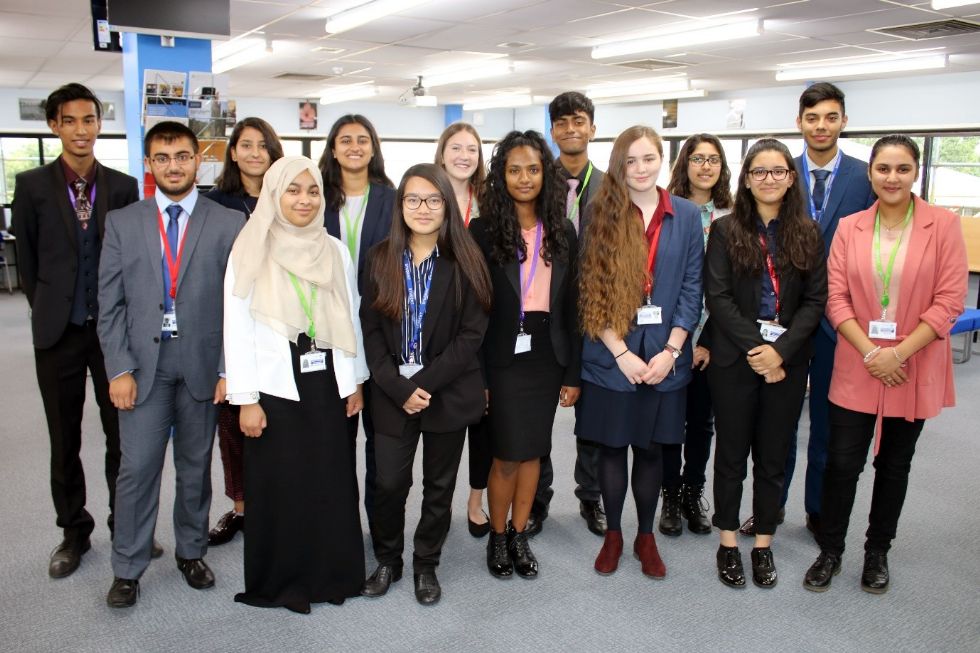 GCSE High Achievers 2018
Achievement of a grade 9 in both Mathematics and English Language / Literature:
Hana Ahmed
Siddhi Baraarhanpurkar
Geena dhillon
Natasha Galpayage Dona
Vivek Kumar
Sachi Sahi
Attainment of a full set of grades 7-9/A*-A Grades:
Hana Ahmed
Aleena Ali
Siddhi Barhanpurkar
Hamza Cheema
Natasha Galpayage Dona
Josephine Kearey
Vivek Kumar
Eashaal Mahmood
Ali Hamza Mohammed
Mahira Muhsanat
Lucy Rogerson
Riya Sachdeva
Sachi Sahi
Muntasir Uddin
A special mention goes to Hana Ahmed and Siddhi Barhanpurkar who achieved straight 9 grades across all their subjects. This is a remarkable achievement.
Key Stage 5 Results
| A-Level + BTEC L3 Extended Diploma | School | National |
| --- | --- | --- |
| Average grade per entry | B- | C+ |
| Average point score per entry | 32.54 | 32.39 |
| Number of students entered | 243 | |
| A Level Results | 2018 | National 2018 |
| --- | --- | --- |
| %A*-B | 64 | 53 |
| %A*-C | 89 | 77 |
| %A*-E | 100 | 97.2 |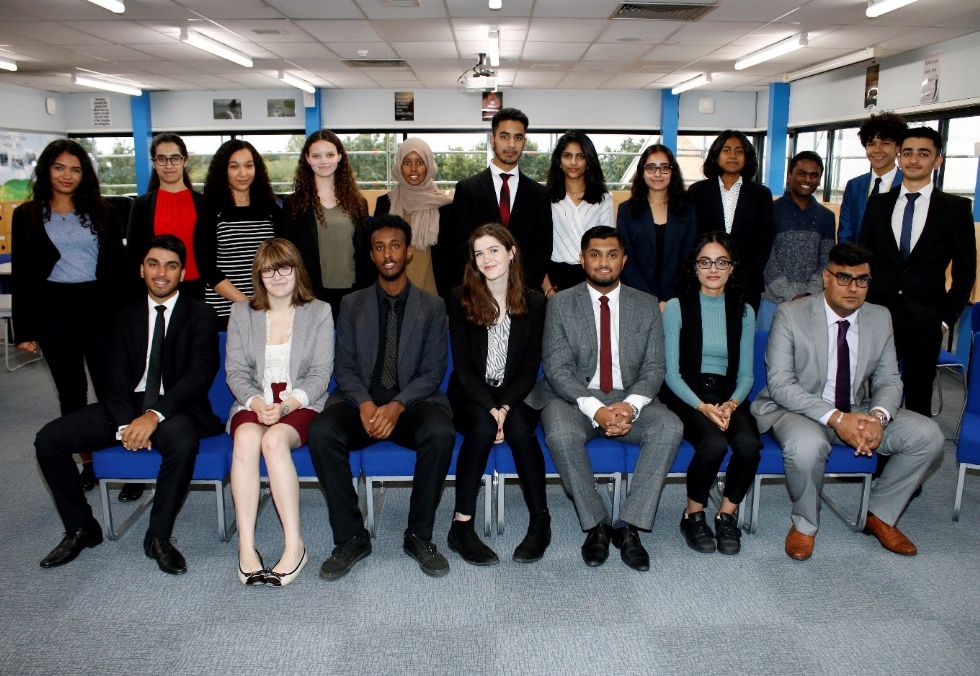 A-Levels High Achievers 2018
The Heathland School achieved exceptional A level Results in 2018 with 64% of grades being at A*-B and 89% at A*-C. As a result of this achievement 200 of our students have progressed to university. Many students have taken up places at the prestigious Russell Group Universities. We are especially proud of all of our students and a special mention goes to those listed below who achieved straight A* and A grade in all of their subjects.
Rohan Sood
Flora Waller
Abdullahi Abdi
Emily Kearey
Minhaj Rahma
Kimrinjeet Mangat
Dalbir Bhamra
Anika Patel
Sarmpavi Uthayakumar
Hassiba Zenasni
Isabel Harvey
Nassra Adam
Abdulrahman Alkatta
Shyana Gopy
Amrit Dhami
Delilah Crasto
Ashley Vijayakumar
Callum Williams-Gould
Sarmad Khan
Alexander Apetroaie
Zainab Aziz
Radia Hassan
Amar Nagi
Nasrien Youness
Saher Zafa
Students on the BTEC Level 3 courses in Applied Science and Business also excelled and the majority progressed to prestigious universities. A special mention goes to the following students who achieved three D* grades.
Moushami Debnath
Aaron Jagota
Muskan Kapoor
Anish Mathew Anish
Amra Mohideen
Retention
196 out of 268 students from year 11 stayed on for sixth form.
217 out 227 progressed from year 12 to 13.
Student destinations
It is with extreme pride that we congratulate all students who have continued their educational journeys and have commenced studies at prestigious universities.
82% of all sixth form applicants have secured places at Higher Education Institutions. We are very pleased to congratulate 21% of our students (of over 200) who have successfully gained places at Russell Group Universities, with the top three most popular Russel Group Universities being: Queen Mary, followed by University College London and Nottingham University.
Students studying our BTEC courses have also continued their studies into Higher Education and 81% of BTEC Business students gained a place at university opting to continue studies in Business based courses. 66% of BTEC Science students secured a place at university with one student securing a place at a Russel Group University to study Architecture. Other BTEC students have gained places on courses including Aerospace Engineering, Optometry and Biomedicine.
A small number of students (6%) have chosen to move directly into the workplace or have opted for internships or apprenticeships. Three students from the 2018 cohort have gained places on competitive apprenticeships at J P Morgan and SKY.