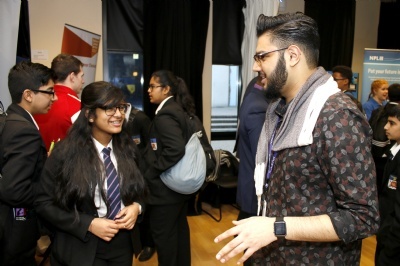 Year 9 were sent home with a lot to think about this week. On Wednesday they took part in the school's annual World of Work day.
Industry professionals working in areas as varied as dentistry, engineering and Sky Sports News conducted pacey seminars with students. They explained what their jobs involved, as well as describing their personal journey: showing that the right amount of effort can lead to incredibly impressive results.
Over 60 industry professionals visited the school to talk to students. The day's events culminated in a careers fayre, where students took the opportunity to interview representatives from an even wider range of industries.
"We hope that what you got out of today was an understanding that it's about more than qualifications," Mr Couch, head of Careers Guidance, told students at the end of the event. "Hopefully you'll have seen something today that will make you consider a career you hadn't thought about previously".
Plenty to mull over then as students prepare for their option choices to go live next Thursday.