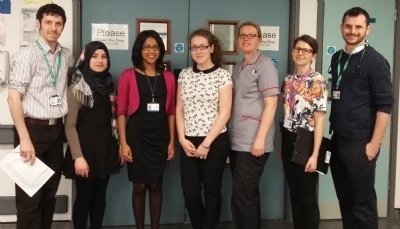 Last term, Reem Salman and I were lucky enough to receive work experience in the neurology department at St. George's Hospital in Tooting. The wonderful Dr Arani Nitkunan took us under her wing. Dr Nitkunan previously went to The Heathland School and is now a qualified neurology consultant.
Arriving in Tooting for 8.45am was not the easiest task, especially with public transport. Having arrived there promptly, Reem and I were quickly rushed to 'Resus' where a thrombolysis (stroke) call had just come in. Watching the doctors and nurses rush around the patient with such care restored my faith in the NHS. Having dealt with that we went straight back to the acute stroke ward where we were based.
At the beginning of each day it is necessary to have a patient summary meeting in order to check patient treatment and to note down any deaths or new arrivals, after having finally decrypted doctors handwriting I was able to judge each patient's treatment and begin the ward round. In short, a ward round consists of going to each patient checking their OBS and performing a stroke assessment on them. Next, we followed Dr Nitkunan to the radiology meeting. Going through CT scans, MRI scans and the multiple other scanning techniques was a long process, especially since strokes are not the most obvious conditions to point out. And yes, it is true doctors often do have a giggle over certain patient's scans, after having seen a drug users scan I can confirm that the scans really do look like a Christmas tree.
After bombarding Dr Nitkunan with questions and seeing to any suspected stroke cases in other wards, the doctor left and allowed us to follow around the junior doctors to get a better feel for the hospital.
At around 3.30pm two thrombolysis calls came in and I rushed to Resus with Dr Chris White (a core year 1 trainee doctor). Due to lack of staffing I even had to help out by passing around the equipment and taking ECGs. I was also taught how to read Venus Blood Gas Samples! At one point I was even mistaken for a medical student.
At 5pm, I began my two hour journey home, still looking forward to the next day.
The second day was very similar to the first although there were no thrombolysis calls to keep the doctors on their toes. The only difference on day two was that we travelled into the ITU (Intensive Treatment Unit) to see a patient with an unknown cause of brain swelling and other dangerous symptoms. To make things worse she was 28 weeks pregnant. After a number of doctors were forced to leave it to the next consultant to diagnose we left the ITU and again spoke with Dr Nitkunan and Dr White about the life of a doctor.
As a summary of what was said, medicine is very time consuming and so you may need to give up most of your social life to be a good doctor, however medicine is also very supportive of families and allows part time work whilst you build a family. The choice of university needs to suit you, do not go to a university because your parents said so. You spend 5/6 years of your life there so it must be your decision. Finally, Dr Nitkunan admitted that The Heathland School was probably the best school option as the school really pushed her to do her best and, well, look where she is now!
I learned a variety of skills from this weekend, including how to analyse scans, treatments in Resus and how to perform stroke assessments. It truly was a magnificent experience and I feel utterly grateful that I was chosen to go to the hospital. The work experience has made me realise how badly I want this career and it has even further spiked my interest in becoming a neurology consultant.
Dr Nitkunan and the rest of the staff at the hospital would like to wish all future medics good luck and hope to see you scurrying around the hospital grounds soon.