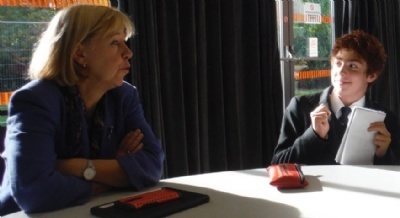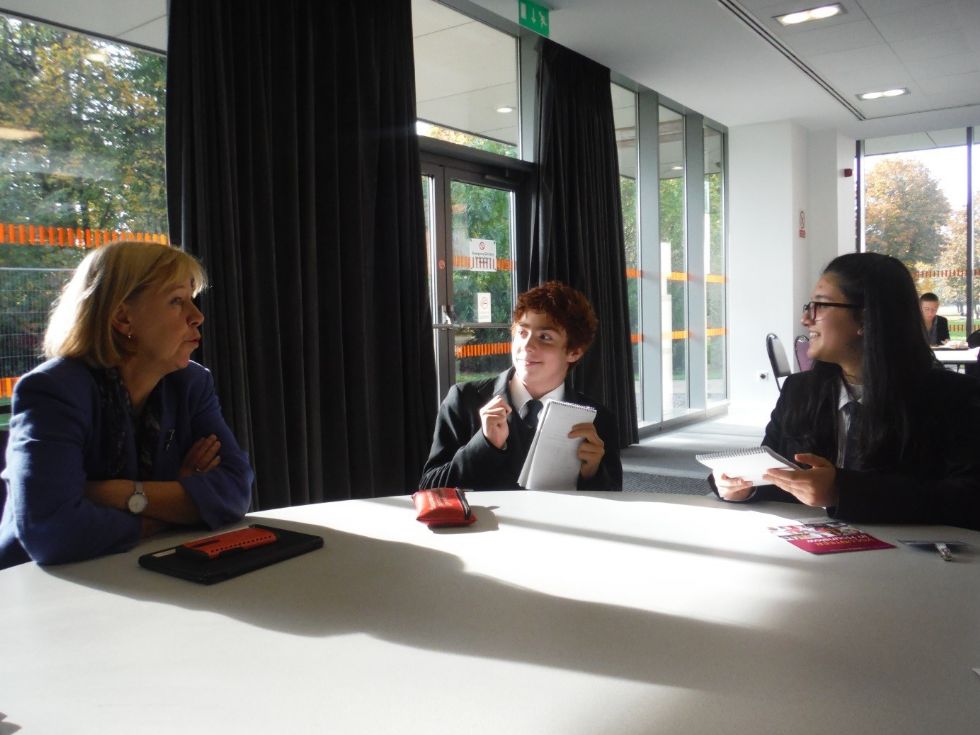 On the 31st of October, we met with the right honourable Ruth Cadbury, a shadow minister and MP of the constituency of Brentford and Isleworth. We discussed her role in Parliament and what aspiring politicians can do to get on the right path…
When we asked what a typical day for a shadow minister is like, her response was simple: "There is no typical day." She said her week was generally split into two types of day- when Parliament sits, and then everything else!
4 days a week, MPs are required to sit in Parliament to participate in votes and debates- though Ruth said she'll sometimes go to support colleagues as well. The rest of the week is spent attending rallies; holding coffee mornings to meet with her constituents; raising awareness on various issues (she gave the examples of homelessness and breast cancer) and any other function that may be happening within her constituency. She also mentioned how she had recently taken part in an event to raise awareness of DIPG, a high grade brain tumour most common in children.
We then asked her what sort of things students could do to get involved in politics and- perhaps one day- find themselves sitting in Parliament. We got a similar response: "There is no one way into politics." Ruth Cadbury was of the opinion that now, more than ever, young people can pursue a career in politics regardless of their background; a private school education is no longer a must for anyone interested in politics!
"The Heathland school is great example of comprehensive education with a steady stream of Oxbridge applicants"
Ruth Cadbury
As a starting point, she suggested joining a student union (as she did), though any club or council provides valid experience. The Duke of Edinburgh Award or National Citizen Service (NCS) would also help immensely. As well as playing an active role inside school, however, she recommended getting involved with local community events or volunteer work: getting in touch with your local council would be a good start. From there, becoming a member of a political party is the next step. Depending on your own political beliefs, you should join a party that is right for you, be it the Labour Party (like Ruth Cadbury); the Conservative Party; the Green Party; the Liberal Democrats or any other party that is in line with what you believe in. Once you are part of a political party, it is up to you to work your way up: become a local representative, attend talks and functions and one day (hopefully) make it into Parliament. And from there, who knows?
For anyone considering going into politics, Ruth Cadbury stressed two things: don't let your background hold you back, and be passionate. She knew of MPs who had started off as dinner ladies and care workers who now sit in Parliament and take part in debates, vote and actively make a difference to their community. But to become an MP, she also said it was vital you cared about something. Whether it's the environment or gender equality or homelessness and anything in between, there must be something you want to see change in your local community or on a bigger scale.
It was a great experience for us- the writers- and we hope that we have made some of you now consider the possibility of a future in politics…
Heathland Editors: Siddhi Barhanpurkar (10Gr) and Kavi Noonan (10Ad)
You can follow Ruth Cadbury online using her Twitter handle: @RuthCadbury
On Facebook: Ruth2015Win
And on her website: ruthcadburymp.co.uk