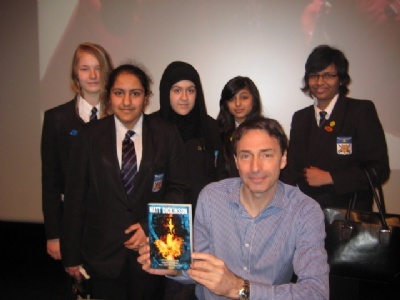 Fifteen Year 9 pupils accompanied by Mrs Crighton and Ms Joslin joined in the 2014 Hounslow Teen Read which has interested Year 9 secondary school pupils across the borough reading a shortlist of six books compiled by the librarians, and voting for their favourite.
This year's shortlist titles are
Breathe by Sarah Crossan, Ketchup clouds by Annabel Pitcher, Wild boy by Rob Lloyd-Jones, Hostage by Chris Bradford, Heroic by Phil Earle and Waiting for Gonzo by Dave Cousins.
On 4 March the Heathland team attended the final award event at the Paul Robeson Theatre. Their voting choices were: 1st Ketchup clouds, 2nd Hostage, 3rd Wild boy.
They were entertained by Matt Dickinson, film-maker and writer who is best known for his award winning novels and his documentary work for National Geographic Television, Discovery Channel and the BBC. His novel Mortal Chaos was runner up in last year's Hounslow Teen Read.
He talked about his writing, and his experiences of filming an expedition climbing to the peak of Mount Everest, and then announced this year's winner. Lots of questions were asked and afterwards there was a book signing where pupils got to talk to him.
Final results for the 2014 Hounslow Teen Read are:
1st place: Wild boy
2nd place: Hostage
3rd place: Breathe
Click on the PDF links below for more information