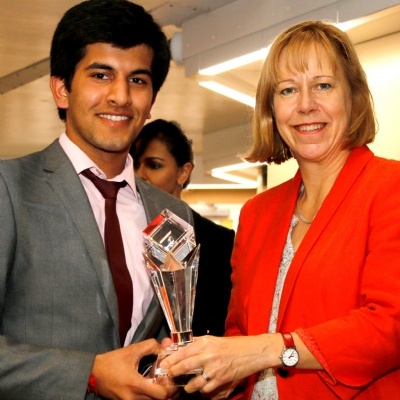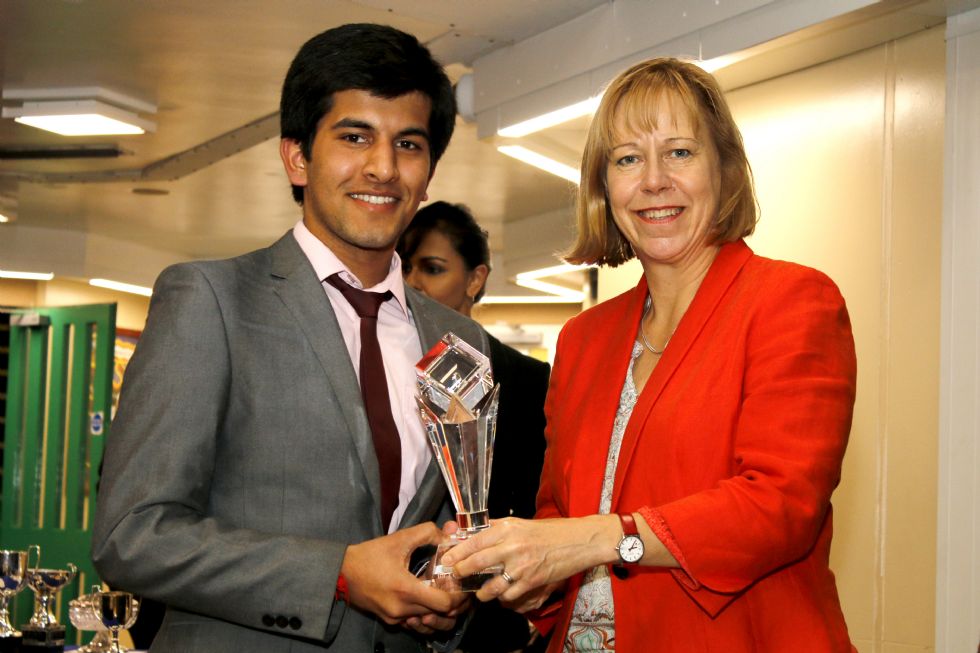 Ruth Cadbury MP presenting Ashish Singh with the Sandra Evans Prize for Further Mathematics. Ashish is now going to University College London to study Theoretical Physics
For the first time since her successful general election campaign, The Heathland School welcomed Ruth Cadbury MP as part of our annual Senior Prize Giving event.
The evening has been presented previously by other industry leaders such as eminent scientist Professor Robert Winston and BBC newsreader George Alagiah.
This year we celebrated the school's best ever GCSE results, as well as over 200 A-Level students securing top-flight university places - three of whom will start at Oxford and Cambridge later this month.
Ms Cadbury previously attended a hustings at The Heathland School just a couple of weeks before the election on 7th May. On that day, she spoke to sixth formers about her plans for the Brentford and Isleworth constituency in the event of a Labour triumph.
Ms Cadbury must have been expecting to speak to a sympathetic crowd. After all, the mock election subsequently conducted by our sixth form team gave her a striking majority victory with 64% of votes.
She certainly gave the crowd of students and parents further reason to warm to her as she promised to use her time in Parliament to campaign in favour of lowering the voting age to 16 or 17. This would mean a lot for sixth form students. A far greater majority of them would be able to vote as a result.
Ms Cadbury met a number of Heathland students while on the campaign trail, she said. Their questions during the previous hustings had shown just how politically engaged a body of students they are. In Ms Cadbury's opinion, "broadening democracy" is vitally important.
Amid a jovial keynote speech, Ms Cadbury likened the halls of Westminster and its aged traditions to Hogwarts, and congratulated students on smashing the school's previous GCSE record with 79% achieving 5+ A* - C. Such rising form, a 13% increase on 2014, is contrary to the local trend where a number of schools saw their own results fall.