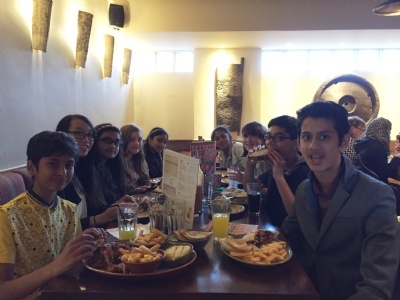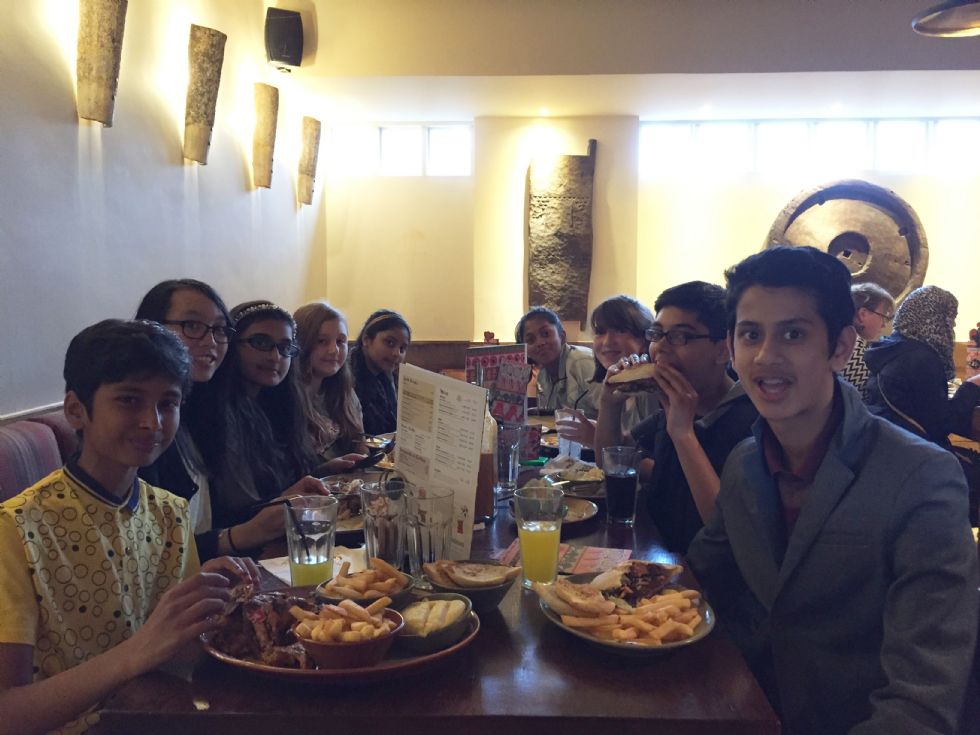 Some of the Year 9 attendees (L-R): Mohit Chandler, Ylissa Tandang, Zarmeena Khan, Teagan Griffiths, Mayesha Ahmed, Amira Ali, Josephine Kearey, Hamza Cheema, Rahul Vadgama
Some of The Heathlands hardest working pupils packed out the local Nandos last week as part of a special reward trip. Each student achieved at least eight 'Excellent' Attitude to Learning grades in each of the three terms last year. School guidelines advise that these grades are only given out to students who are "active, enthusiastic, interested and well-motivated" in their learning and who "seek to extend their own knowledge". To achieve as many 'Excellent' grades on such a consistent basis is a mighty feat indeed.
Year 11 student David Driver-Gomm writes:
The trip to Nandos was very enjoyable! It was an excellent reward for the hard work those who went on the trip put in in the last school year. The food was very nice (albeit spicy too) and the school's gracious offer to pay for some of the meal was wonderful. It was great to see my friends and the Heads of Year in a more informal setting. I hope to go to the next reward trip too!
Invited students:
Y9
Barkha Kaur – 9 Palmer
Archita Neerukonda – 9 Turner
Hrishita Sajuwan – 9 Turner
Hamza Cheema – 9 Sheridan
Sachi Sahi – 9 Turner
Rahul Vadgama – 9 Jenner
Zarmeena Khan – 9 Sheridan
Amira Ali – 9 Jenner
Teagan Griffiths – 9 Sheridan
Eashaal Mahmood – 9 Sheridan
Ylissa Tandang – 9 Sheridan
Aleena Ali – 9 Palmer
Mayesha Ahmed – 9 Turner
Josie Kearey – 9 Kent
Mohit Chander – 9 Kent
Student names from Years 8, 10 and 11 will be added soon.