Why study Physical Education?
The subject provides opportunities to develop knowledge & understanding of the physiological, psychological and socio-cultural issues that relate to Sport. You also learn to appreciate the role of the performer, coach and official in a sporting context.
Entry Requirements
GCSE Theory of PE is not an essential prerequisite for embarking on this course but would be advantageous. It is however essential that students can perform to a high level in at least one activity or role within a sport. Students will need to pass a practical examination during the first two weeks of the course.
Course content/Outline
This qualification is linear. Linear means that students will sit all their exams and submit all their non- exam assessment at the end of the course.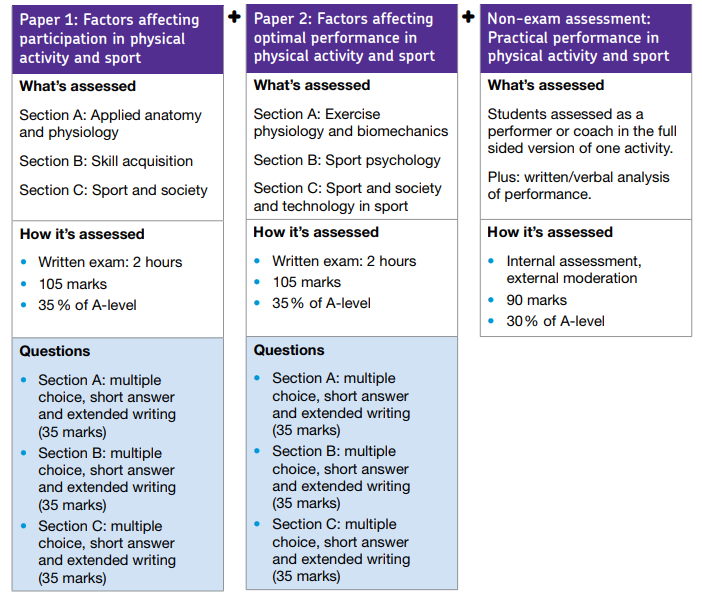 The non-exam assessment (NEA) aspect of the qualification requires students to develop their ability and aptitude in physical activity, demonstrating appropriate skills and techniques outlined below.
This aspect of the specification requires students to:
perform a range of skills and techniques in physical activity and sport
make decisions, implement strategies, tactics and/or compositional ideas, and apply knowledge and understanding of rules and regulations while performing physical activity and sport
apply knowledge and understanding of theories, concepts, principles and methods to physical activity and performance
evaluate performance in physical activity and sport, applying relevant knowledge and understanding.
There are two aspects to the NEA: 1 performance assessment (practical performance) 2 performance analysis assessment (analysis and evaluation).
Please click on the link below to have a full breakdown of activities and what is required for the written analysis of performance;
http://filestore.aqa.org.uk/resources/pe/specifications/AQA-7582-SP-2016.PDF
What career opportunities are there?
Physical Education is a respected, academic subject welcomed by Higher Education. It is a useful qualification for careers in Medicine, Physiotherapy, Teaching and the Leisure Industry / Management or for further study.
Syllabus: Physical Education
Examination Board: AQA
More information: Mrs J L Dark